WELCOME TO
DAVID JOLLY RACING
David Jolly lives for racing and the satisfaction and reward that comes with perseverance and dedication. Located on the undulating coastline and rolling sands of Goolwa in South Australia David and his team, both staff and horse, wouldn't want to be anywhere else when it comes to training horses.
David believes the relaxed environment where nothing needs to be rushed is an ideal way to train his horses and the results have backed up his thoughts.
David Jolly Racing has had great results at home in South Australia and also across the border in Victoria with horses such as Budriguez and Behemoth. Regarded as an astute judge by his peers David is looking forward to what lies ahead at Jolly Racing with a strong young team of horses ready to fulfil their potential.
stay informed
STABLE STATS
STAY UP TO DATE
LATEST NEWS
Keep up to date with all the latest stable news from David Jolly Racing.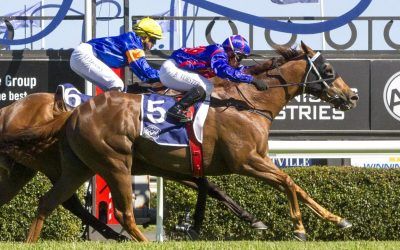 David Jolly finished a frustrating 2022 on a winning note as Hongbao ended a metro drought of almost three months at Morphettville on Saturday. It has been a period of transition for the Group 1-winning stable with the retirement of banner horse Behemoth a couple of...
stay informed
Join our mailing list
Upcoming Runners
Horse
Date
Time
Race
Track
Fields/Form

Nominations

Chosen Miss
Dec 13, 2023
1 - Strathalbyn
Strathalbyn
Field
Roc The Wolf
Dec 13, 2023
2 - Strathalbyn
Strathalbyn
Field
Lord Morton
Dec 13, 2023
3 - Strathalbyn
Strathalbyn
Field
The Grey King
Dec 13, 2023
3 - Strathalbyn
Strathalbyn
Field

Weights

The Grey King
Dec 09, 2023
8 - Morphettville
Morphettville
Field
Streetcar Apollo
Dec 09, 2023
9 - Morphettville
Morphettville
Field
Chosen Miss
Dec 10, 2023
1 - Murray Bdge
Murray Bdge
Field
Streetcar Apollo
Dec 10, 2023
6 - Murray Bdge
Murray Bdge
Field
Talkin' Italian
Dec 10, 2023
6 - Murray Bdge
Murray Bdge
Field
Novus Actus
Dec 10, 2023
7 - Murray Bdge
Murray Bdge
Field

Acceptances

Valaroc
Dec 09, 2023
04:02 PM
7 - Morphettville
Morphettville
Field
Streetcar Apollo
Dec 09, 2023
12:52 PM
2 - Morphettville
Morphettville
Field
The Grey King
Dec 09, 2023
05:30 PM
9 - Morphettville
Morphettville
Field
Streetcar Apollo
Dec 10, 2023
01:03 PM
1 - Murray Bdge
Murray Bdge
Field
Chosen Miss
Dec 10, 2023
04:10 PM
6 - Murray Bdge
Murray Bdge
Field
Recent Winners
| Horse | Date | Race | Margin | Jockey |
| --- | --- | --- | --- | --- |
| Roc The Wolf | Dec 03, 2023 | 7 - Clare | 0.10 | Kayla Crowther |
| Huntley Lady | Nov 15, 2023 | 6 - Murray Bdge | 0.20 | Caitlyn Munro |
| Bit Of A Rebel | Nov 01, 2023 | 3 - Strathalbyn | 1.30 | Caitlyn Munro |
| Valaroc | Oct 08, 2023 | 5 - Strathalbyn | 0.20 | Hannah Edgley |
| Lake Agawam | Oct 06, 2023 | 6 - Morphettville Parks | 1.80 | Hannah Edgley |
| Bit Of A Rebel | Sep 20, 2023 | 7 - Strathalbyn | 0.10 | Caitlyn Munro |
| Howl | Jun 03, 2023 | 3 - Morphettville Parks | 0.20 | Lachlan Neindorf |
| The Grey King | May 21, 2023 | 2 - Strathalbyn | 0.20 | Kayla Crowther |
| Hongbao | May 03, 2023 | 5 - Murray Bdge | 0.50 | Sheriden Tomlinson |
| Declared | May 03, 2023 | 4 - Murray Bdge | 0.50 | Rochelle Milnes |
Latest Results
| Horse | Date | Race | Finished | Margin | Jockey |
| --- | --- | --- | --- | --- | --- |
| Roc The Wolf | Dec 03, 2023 | 7 - Clare | 1 | 0.10 | Kayla Crowther |
| Howl | Dec 02, 2023 | 10 - Morphettville Parks | 3 | 1.90 | Lachlan Neindorf |
| Huntley Lady | Dec 02, 2023 | 7 - Morphettville Parks | 4 | 1.70 | Kayla Crowther |
| Mr Have A Chat | Dec 02, 2023 | 8 - Morphettville Parks | 5 | 1.90 | Tayla Childs |
| Miss Mucinni | Nov 25, 2023 | 8 - Morphettville | 7 | 3.10 | Kayla Crowther |
| Bit Of A Rebel | Nov 25, 2023 | 6 - Morphettville | 6 | 4.50 | Jake Toeroek |
| Lord Morton | Nov 19, 2023 | 6 - Strathalbyn | 5 | 2.10 | J Maund |
| Lake Agawam | Nov 19, 2023 | 5 - Strathalbyn | 6 | 4.40 | Caitlyn Munro |
| The Grey King | Nov 19, 2023 | 5 - Strathalbyn | 5 | 3.50 | Hannah Edgley |
| Chosen Miss | Nov 19, 2023 | 8 - Strathalbyn | 11 | 8.00 | Caitlyn Munro |
TERMS & CONDITIONS
TRAINING AGREEMENT